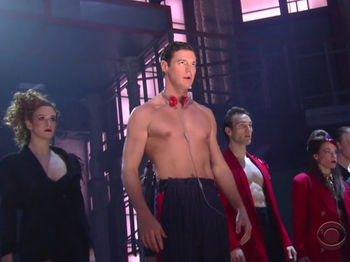 The cast of 'American Psycho'
'American Psycho' will officially open on April 21.
Everybody wants to rule the world, and the cast of American Psycho is well on their way to conquering late night. Benjamin Walker and his co-stars recently appeared on The Late Show with Stephen Colbert to perform "Selling Out." No stranger to a bloody, bloody good time, the headliner is playing Patrick Bateman at the Schoenfeld Theatre, where previews for the page-to-screen-to-stage tuner began on March 24. Though Walker's character is a calculated city slicker through and through, he and Colbert discussed their southern roots. "When I speak to my mother on the phone, [my accent] comes out. Or drink. They all go hand in hand. I love you, mom! I'm sorry," Walker joked. Watch the cast of American Psycho slay (and hear the star's adorable southern drawl) below!