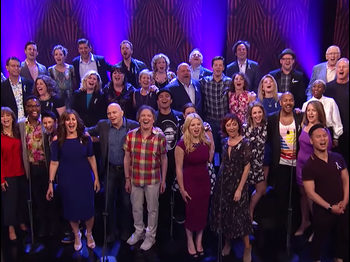 Broadway's brightest perform for Orlando on 'Maya & Marty'
The single has peaked at No. 1 on the iTunes Top Songs chart.
Spectacular things happen when humans come together to spread "love, sweet love," and the Broadway community is living proof. Following the Orlando tragedy, the Great White Way's brightest assembled to create a powerful benefit single, "What the World Needs Now Is Love." Broadway faves like Waitress' Jessie Mueller, Shuffle Along's Billy Porter and many more recently took the stage on NBC's Maya & Marty. The world seems to be answering back with a resounding "Yes"; the single has peaked at number one on the iTunes Top Songs chart. Snag your copy of the single here, and watch the performance below!