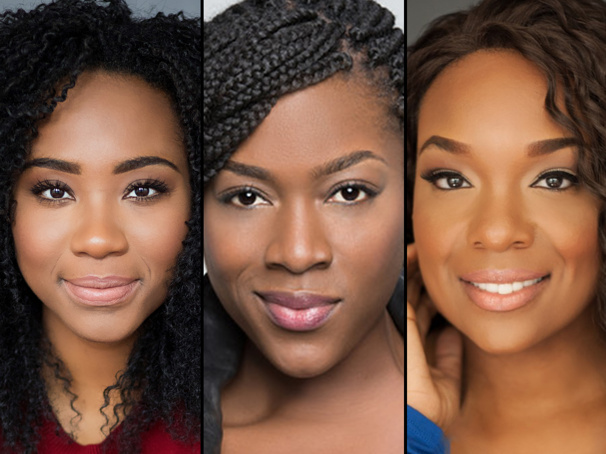 Adrianna Hicks, Carla R. Stewart & Carrie Compere
About the Show
'The Color Purple' launches in Schenectady on October 7.
Yes, they're beautiful and they're here! Broadway cast members Adrianna Hicks, Carla R. Stewart and Carrie Compere will lead the national tour of The Color Purple as Celie, Shug Avery and Sofia, respectively. The touring production of the Tony Award-winning musical revival, directed by Tony winner John Doyle, will kick off at the Proctors Theatre in Schenectady on October 7, before continuing to additional cities across the country.

In addition to Hicks, Stewart and Compere, the cast of The Color Purple tour will feature Gavin Gregory as Mister, N'Jameh Camara as Nettie and J. Daughtry as Harpo. The ensemble includes Darnell Abraham, Amar Atkins, Kyle E. Baird, Angela Birchett, Jared Dixon, Erica Durham, Bianca Horn, Gabrielle Reid, C.E. Smith, Clyde Voce, Nyla Watson, J.D. Webster, Brit West, Nikisha Williams and Michael Wordly.

Based on the Alice Walker's Pulitzer Prize-winning novel and the 1985 motion picture, The Color Purple musical is adapted for the stage by Tony Award and Pulitzer Prize winner Marsha Norman, with music and lyrics by Brenda Russell, Allee Willis and Stephen Bray. The Broadway revival of The Color Purple won two 2016 Tony Awards, including Best Revival of a Musical.

To find out when The Color Purple is headed to your city, click here.